The East Carroll Parish Big Buck Contest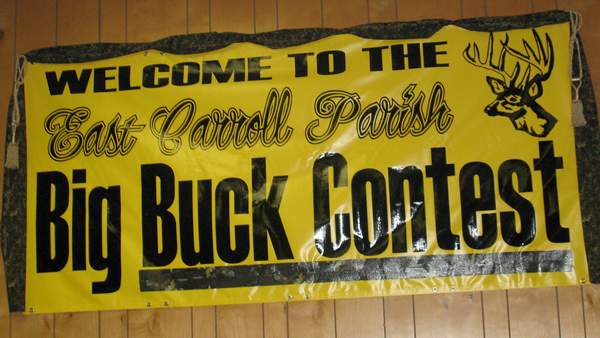 ---
The East Carroll Parish Big Buck Contest began for the 2006-2007 deer season by Randy and Cheryl Dye, owners of Randy's Auto & Farm Supply, East Carroll Parish Sheriff Mark Shumate, Andy Brister of Brister & Brister Law Firm, and Billy Calhoun, owner of Carroll Oil.
The first year of the contest approximately 30 deer were scored. In February, 2007, we had our first "BIG BUCK" contest banquet attended by approximately 25 people.
During the 2007-2008 contest, there were over 90 deer scored. Again, we held our banquet in February with a standing room only crowd of around 250 in attendance.
Since then, each year out grows the one before. So much that we have moved three times to larger facilities to accommodate the large crowds.
This contest was created for the hunters of East Carroll Parish and those who love the sport of hunting. Each year prizes for the top three high scoring deer in each category are given out. Categories are as follows:
MEN'S CRP AND MEN'S OPEN
YOUTH CRP AND YOUTH OPEN
WOMEN'S DIVISION
ARCHERY
LITTLE BRITCHES
DOE DIVISION
TRAIL CAM DIVISION
NON COMPETING DIVISION
OUT OF BOUNDS ADULTS AND CHILDREN
Along with these prizes, many door prizes are given out during the banquet finale.
And, of course, our sponsors, The EAST CARROLL PARISH BIG BUCK CONTEST could not be what it is without them. Pay a visit to our SPONSORS page to see all the great folks who contribute to this community event.
As our event continues to grow each year, we look forward to seeing each and everyone in the community. We would like to thank everyone for their participation. If you are interested in being a sponsor and would like more details, call 318-559-2196 or email us at: